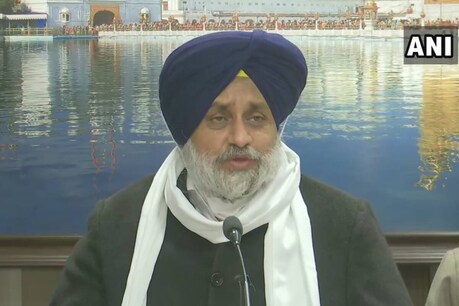 सुखबीर सिंह बादल (फाइल फोटो)
Farmers Protest: सुप्रीम कोर्ट ने तीन नए विवादित कृषि कानूनों (New Farm Laws) के लागू होने पर रोक लगा दी थी। इसके अलावा अदालत ने एक समिति भी गठित की थी, जो किसानों और सरकार के बीच जारी विवाद को खत्म करने के लिए काम करेगी।






Last Updated:
January 13, 2021, 11:13 AM IST
नई दिल्ली.
सुप्रीम कोर्ट (Supreme Court) ने बीते गुरुवार को नए
कृषि कानूनों
के लागू होने पर रोक लगा दी थी. अदालत के इस फैसले का शिरोमणि अकाली दल (Shiromani Akali Dal) ने समर्थन किया है. पार्टी प्रमुख सुखबीर सिंह बादल (Sukhbir Singh Badal) ने मंगलाव को इस फैसले को भारतीय जनता पार्टी (BJP) की नैतिक हार बताया है. हालांकि, उन्होंने सुप्रीम कोर्ट की तैयार हुई कमेटी पर भी सवाल उठाए हैं. उन्होंने इस समिति में कानून समर्थकों के शामिल करने का आरोप लगाया.
सर्वोच्च अदालत ने लोगों पर पड़ रहे प्रभाव पर चिंता जाहिर की थी. इसके अलावा उन्होंने हफ्तों बाद भी प्रदर्शन शांत नहीं होने को लेकर केंद्र सरकार को भी फटकार लगाई थी. इसके बाद सुखबीर सिंह बादल ने ट्वीट के जरिए बीजेपी पर निशाना साधा है. उन्होंने लिखा 'आज किसानों को लेकर सुप्रीम कोर्ट का आदेश बीजेपी के लिए नैतिक हार की तरह है.' पार्टी ने अदालत के फैसले को लेकर एक कोर मीटिंग भी आयोजित की थी.
The committee formed by SC, comprising supporters of #AntiFarmerActs, is a joke & unacceptable. It exposes the nexus between Punjab CM @capt_amarinder & BJP-led Centre. @Akali_Dal_ also objects to GoI allegations in SC that Khalistani elements have infiltrated the protest. 2/4

— Sukhbir Singh Badal (@officeofssbadal) January 12, 2021
सुप्रीम कोर्ट ने तीन नए विवादित कृषि कानूनों के लागू होने पर रोक लगा दी थी. इसके अलावा अदालत ने एक समिति भी गठित की थी, जो किसानों और सरकार के बीच जारी विवाद को खत्म करने के लिए काम करेगी. चार सदस्यीय इस टीम को पहली बैठक के बाद 2 महीनो के भीतर अदालत में अपनी सिफारिशें दाखिल करने के आदेश दिए हैं. इस समिति में प्रमोद जोशी, अशोक गुलाटी, अनिल घनवट और भूपिंदर सिंह मान शामिल हैं.
इससे पहले अदालत ने कहा था कि हम बेहतर तरीकों से परेशानियों को सुलझाने की कोशिश कर रहे हैं. मुख्य न्यायाधीश ने कहा 'यह जिंदगी और मौत का मामला है. हम कानूनों को लेकर चिंतित हैं. हम आंदोलन की वजह से प्रभावित हो रहे लोगों के जीवन और संपत्ति को लेकर चिंतित हैं. हम परेशानी को सबसे अच्छे तरीके से सुलझाने की कोशिश कर रहे हैं.' उन्होंने कहा कि हमारे पास कानूनों को रद्द करने की भी ताकत है. वहीं, सुप्रीम कोर्ट ने दिल्ली पुलिस की याचिका को मानते हुए किसान संगठनों की 26 जनवरी को होने वाली ट्रैक्टर रैली को लेकर भी नोटिस जारी किया है.